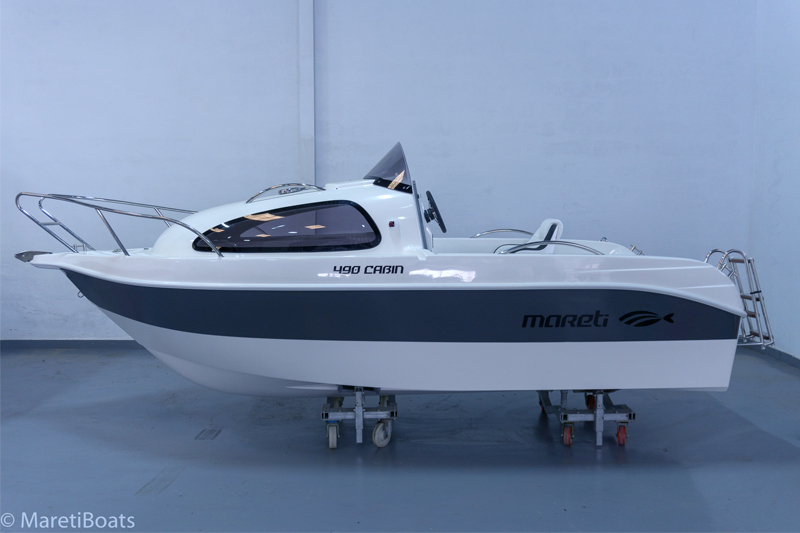 This boat is the intermediate model of the cabin range. It will offer you a large space inside its cabin, with capacity for 3 adults. Inside there are two side windows and two air intakes for ventilation. The interior is completely upholstered both on the sides and on the ceiling. This model also allows to make a single large bunk bed or two bunk beds with independent space in the center.
With this model you can enjoy both summer and seasons of the year in which you want to protect yourself from the cold or wind. With the right motor, it is a very versatile boat for various water sports or for a quiet sailing with family or friends.
MARETI 2021 packs model 490 Cabin + Suzuki or Tohatsu outboard motor:

490 Cabin + Suzuki DF 50: 20.560€ / Tohatsu MFS 50: 19.895€

490 Cabin + Suzuki DF 60: 21.605€ / Tohatsu MFS 60: 20.800€

490 Cabin + Suzuki DF 70: 23.200€ / Tohatsu MFS 75: 23.430€

490 Cabin + Suzuki DF 80: 23.835€

490 Cabin + Suzuki DF 90: 24.350€ / Tohatsu MFS 90: 23.745€

VAT INCLUDED

* Includes all standard equipment + transport to central (Murcia) + complete motor assembly + battery with disconnector

*15cv without powertrim – 25cv without powertrim – 30cv with powertrim
Self-draining cockpit
7 stowage chests
Stainless steel bow railing
Stainless steel side handrails
Anchor well with drainpipe
A cleat in the bow and two in the stern
3 mooring and towing eyebolts
Windshield
Interior cabin ventilation
Lateral windows
Mechanical steering and steering wheel
Silvertex lux complete upholstery
Cabin interior upholstery
Cabin upholstery
Reinforced bathing ladder with wooden steps
Navigation lights
Switch panel
Bimini top
colored hull
Complete table
Synthetic teka floor
Anchoring canvas
Stereo
60L fixed fuel tank
From € 10,000 + VAT
(€ 12,100.00 tax included)
* Price boat alone, without engine. Price sold to the public according to the current rate. Does not include transportation from manufacturing.