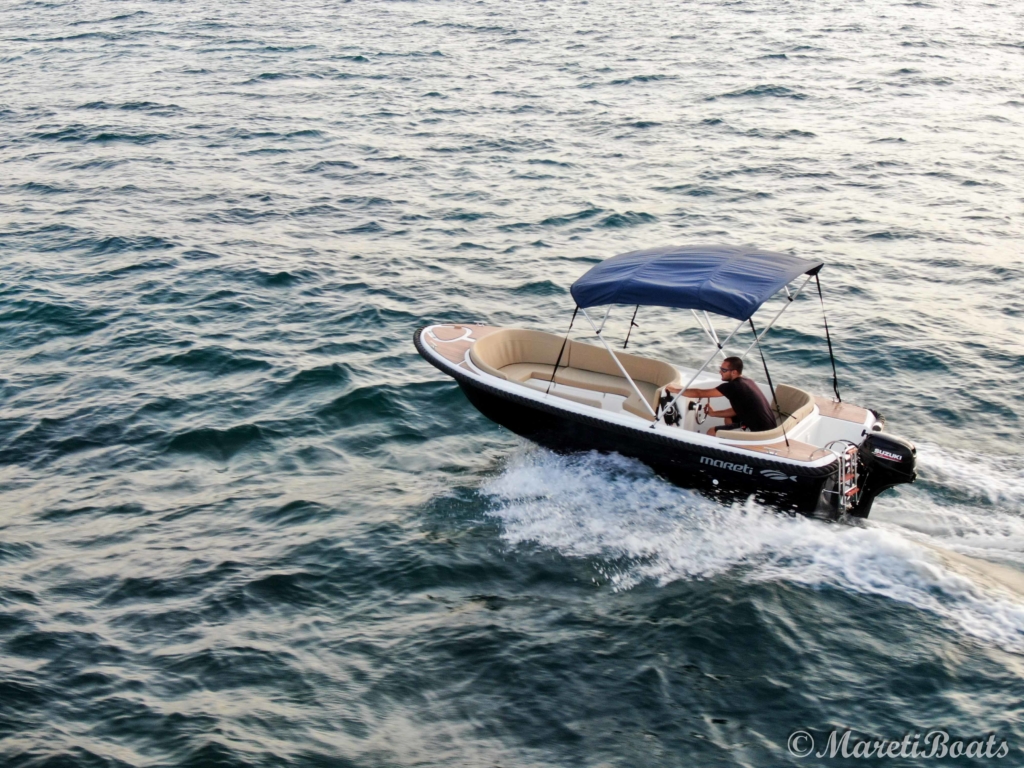 Open center console boat ideal for initiation and rentals. This model is very similar to our 434 open classic model but with a superior length and sleeve. Which allows us one more passenger and up to 50hp of maximum power.
Practical and economical, focused for people looking to walk, swim, fish and enjoy the sea in peace.
This boat is made up of a large standard solarium that at the same time offers us up to 4 large stowage barrels, in addition to incorporating a large independent anchor well.
It is an ideal model for people who lack a nautical degree with a maximum of 15HP.
A boat with which you can enjoy at any time of the year thanks to its camper (option)
2020's Packs MARETI model 500 classic + outboard motor Suzuki, Tohatsu or Selva:

500 Classic + Suzuki DF 15: 11.500€ / Tohatsu MF S15: 11.390€ / Selva 15: 12.150€

500 Classic + Suzuki DF 25: 11.990€ / Tohatsu MFS 25: 12.150€ / Selva 25: 12.990€

500 Classic + Suzuki DF 30: 13.390€ / Tohatsu MFS 30: 12.890€

500 Classic + Suzuki DF 40: 14.250€ / Tohatsu MFS 40: 13.900€ / Selva 40: 14.690€

500 Classic + Suzuki DF 50: 15.250€ / Tohatsu MFS 50: 14.550€ / Selva 50xsr: 16.100€

VAT INCLUDED

*Includes transportation to central (Murcia) + complete engine mount + battery cutoff

*15cv without powertrim – 25cv without powertrim – 30cv with powertrim
Self-emptying tub (by pump)
4 Stowage Chests
Stainless steel bow railing
Anchor well with drainpipe
Noray en proa de acero inoxidable
3 mooring and towing eyebolts
Center console
Mechanical steering and steering wheel
Full Silvertex upholstery
Full bow solarium
Full rope belt
Pump with automatic
Bath ladder with wooden steps
Bimini top
Full camper
colored hull
Base for a table (solarium complement)
Synthetic teka floor
Anchoring canvas
Navigation lights
Stereo
From 5.600€ + iva
Boat price without engine. Taxes and transportation not included.